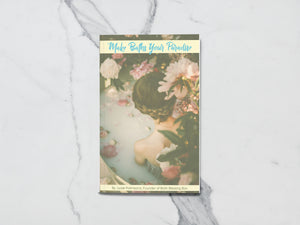 The Bath Blessing Recipe Collection
Regular price $9.99 $2.99 Sale
The Bath Blessing Recipe Collection is a curated gathering of our favorites!  These well-loved recipes are shared from our hearts to yours. 
Bathing has a long and detailed history. Submerging ourselves in water, whether in the tub, shower or in a natural body of water is something we do for both personal hygiene, leisure and health. We know that this routine is therapeutic for body, mind, and soul.
Bathing with botanicals is a oneness with natural products in the most therapeutic of all daily routines ~ the daily bath.  The botanical bath takes this routine to another level.
Enjoy our recipes, create your own and share yours with us!  We always welcome your homemade recipes to share.  
If you love these kind of recipes, but don't have the time or would just rather have the goodies delivered to your home, please check our Sanctuary Bath Box subscription https://bathblessing.com/pages/subscription .  
Enjoy!